DocuSign
The DOE now has an enterprise license for DocuSign and you can use it for electronic signatures.
DocuSign allows parents, guardians, and staff to sign important documents digitally. For example:
Comprehensive Educational Plan (CEP) SLT Sign off page
College Board Consent Form
COVID Testing Consent Form

Per Session Time Sheets
This will help families, school staff, and district office staff sign documents remotely without compromising security. For more information on how DocuSign works, visit the DocuSign website. 
How to Access DocuSign
Any DOE employee can use DocuSign. 
Enter your DOE Email
Select "Use Company Login"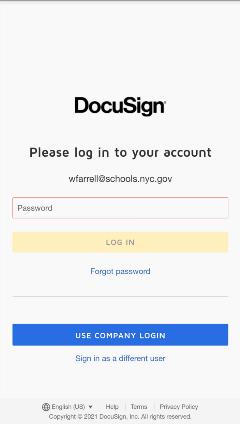 How to Sign a Document
Sending Out Documents
Get Support